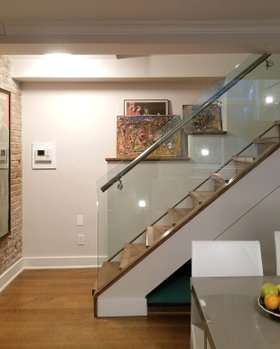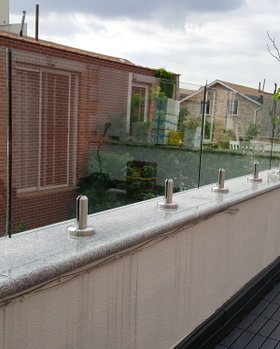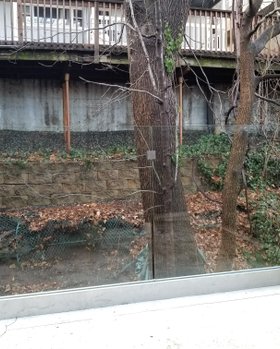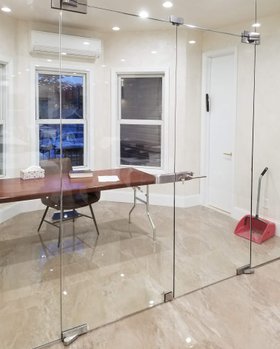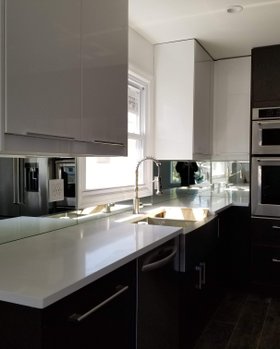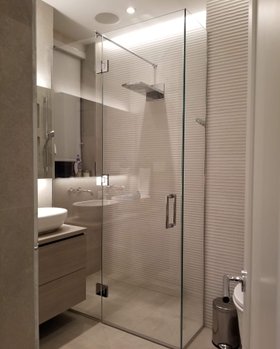 Frameless Shower Enclosure
The frameless glass and modern heavy-duty hardware give the shower a clean, modern and fresh look. We always cut the glass by custom size plus a variety of hardware give you a big flexibility to get the perfect shower enclosure for your bathroom. Frameless shower doors minimize the number of places water can collect and mold can grow in your shower. You may schedule a visit with our specialist, who will provide you samples of used materials, give you a technical solution for your needs and price offer. Also, you may request an estimation online or by phone.
Back painted glass is available in hundreds of color cut by custom size and shape. Backpainted glass is ideal for backsplashes, wall finishing, tabletops, countertops, shelving and more. The back painted glass may be tempered. Available in several thicknesses and glass type, back painted glass is a beautiful detail to residential and commercial interiors.

Glass walls and doors, interiors
Glass in aluminum system Office Partitions is available in several striking configurations that serve to host different needs. We use new CRLaurence Office Partitions that are versatile, has polished designs and deliver cost savings in the form of a more transparent wall and door system. Aluminum Office Partitions can also form office area dividers, interior offices, conference room walls, office entrances and hallways.
Glass fences are a stylish, longer-lasting alternative to traditional fencing. They prevent accidents that occur around your pool without obstructing your view. Engineered to meet pool fencing safety code requirements, our glass pool fences will keep your family safe. Pool fence may be pole mount, base shoe mount or spigot mount. Our specialist may explain to you the advantages of each type of fence, provide you samples of used materials and give you the best design for your place.
Windscreens or windshields is an outdoor glass construction to protect a specific area from wind and noise. Usually, glass screens are installed on rooftops, balconies, around the pool or terrace. We fix in place small and big glass panels with special hardware made of aluminum or stainless steel available in different designs and finishes.
Staircase, Glass and Metal Railing
By installing a new frameless glass railing in your home or commercial property, you are sure to bring that modern look and value to your property. A frameless glass railing will provide a polished sleek feeling that will make the interior feel much bigger and stylish. Our frameless glass railings are custom designed to perfectly fit your new or existing staircase. There are many styles that we can accommodate to fit your preferences. We use tempered glass, laminated glass and heavy-duty hardware to make it a very strong and safe construction designed by our engineer.